Welcome to Our Lady of Sorrows!
You do not need a Facebook account
to view our posts.
---
---
Confessions every Saturday,
1:00 pm – 2:00 pm
---
---
2nd Annual Rosary Congress at OLS!
Pray for our Church, families, country, peace and justice, and your own intentions.
All are welcome to sit in our church in prayer and in peaceful reflection for any part of the 24-hours, but we also need people willing to commit to one hour of Adoration. PLEASE accept this invitation from Jesus to spend a quiet hour with Him.
To commit to an hour of Adoration, go to: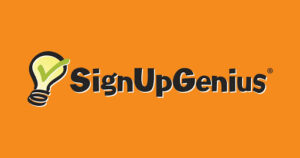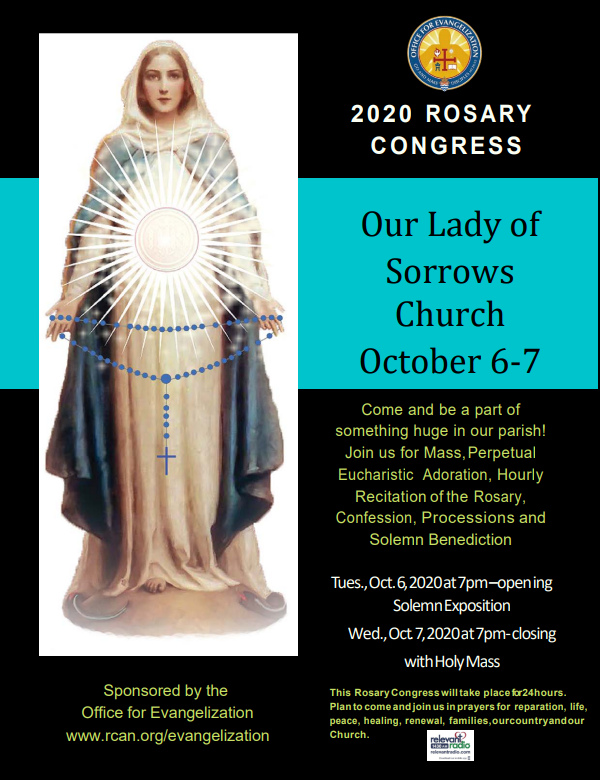 ---
---
Sunday Masses at 10:00 am are both live streamed and later accessible on our YouTube channel.
---
---
PUBLIC MASSES HAVE RESUMED
We are once again open for public Mass. Unless we are notified otherwise, we will celebrate public Mass every day. We are also now celebrating baptisms, weddings, and funerals.
We have daily Mass in the Upper Church at our pre-pandemic times (limit of 150 people):
Monday through Friday: 7:00 am and 12:00 Noon

Saturday: 8:30 am and 12:00 Noon
Sunday Masses (limit of 150 people):
Saturday: 5:30 pm

Sunday: 8:00 am, 10:00 am, and 11:30 am
Sunday Mass at 10:00 am will continue to be live streamed for as long as necessary. Weekday Masses are no longer being live streamed.
Confession, every Saturday: 1:00-2:00 pm
PLEASE NOTE AND FOLLOW THESE DIRECTIVES:
The dispensation from the obligation to attend Sunday Mass remains in effect.

Those who show symptoms of COVID-19 or who have been exposed to another infected person should not enter the church for 14 days. It is recommended that you check your temperature at home before coming to church.

Those at risk due to an underlying health issue, a compromised immune system, or who are of an advanced age are encouraged to participate in the live stream Mass and avoid coming to church.

Entrance and exit to the church is only by means of the doors on Prospect Street. The side doors will NOT be open.

Nobody should enter the church without a mask. You must wear the mask at all times while in the church, except when receiving Holy Communion.

As you both enter and exit the church, please make use of the hand sanitizer dispensers which are set up in the back of the church (or bring your own hand sanitizer).

Please practice social distancing. Seating is permitted only in designated pews. Families are to maintain 6-foot distancing between their households. Do not remove any of the white ribbons on the pews that designate "no seating" areas.

For the distribution of Holy Communion, please note:

Weekday Masses: form a single file line in the center aisle. Return by means of the two side aisles.

Sunday Masses: form single file lines in the two side aisles and return by means of the center aisle.

While in line, maintain social distancing by being attentive to the blue lines on the floor.

In order to avoid having to continually disinfect the bathrooms, they will NOT be assessible for the time being. Please plan ahead of time!
 Thank you for your cooperation. We look forward to seeing you at Mass!
---
---
Click below for the live stream
Mass of the 25th Sunday in Ordinary Time (9/20/20)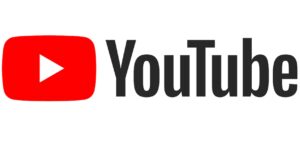 Click here for the Worship Aid
---
---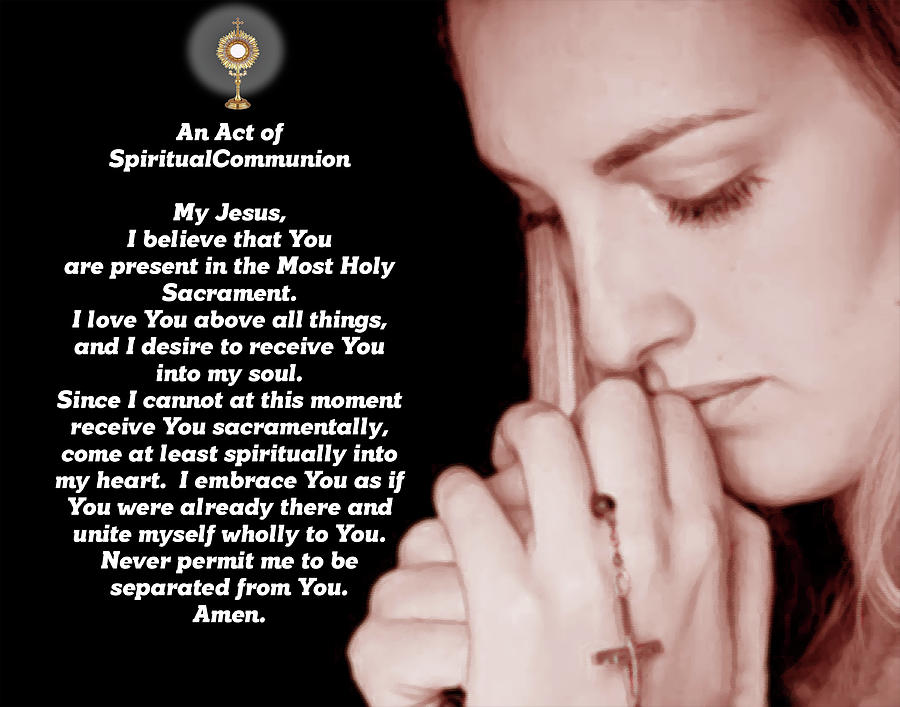 ---
---

---
Our Lady of Sorrows,
pray for us!